Title
Dstny Group CEO Daan De Wever voted IT Person of the Year by Computable Belgium 
Daan De Wever (42), co-founder and CEO of Dstny Group - the Belgian provider of cloud-based business communication solutions - has been voted ICT Person of the Year by Computable Belgium. The award was presented on April 20 at Cybersec Europe in Brussels (the successor to Infosecurity.be, Data & Cloud Expo).
The winner is chosen by the editors of Computable Belgium, taking into account the public votes. Important criteria include the activities in the past year, management style, (international) image, (business) performance and the impact on the Belgian IT sector. The Computable Awards were presented by the judges, TV presenter Wim De Vilder, editor-in-chief William Visterin and none other than Prince Laurent of Belgium.
Daan De Wever, co-founder and CEO Dstny Group
"I am very happy with this great recognition. It is the culmination of a journey I started 15 years ago with my brother Samuel. Together we have consistently and sustainably built Dstny into the European leader and innovator in cloud-based business communication solutions that we are today.  We support SMEs and large companies with a modern all-in communication platform for telephony, chat and video, as well as advanced connectivity and security solutions."
"Meanwhile, we have become a proud cycling sponsor of Lotto-Dstny, reinforcing our new European brand identity, which we launched last year. The Dstny brand brings together the more than 14 companies within the Dstny Group, spread across 7 European countries, under one flag. To build a single future-proof European company, we have established a similar set-up and go-to-market model in all countries."
"Moreover, in recent years we have built a strong technology framework and unique technical development capacity.  We've become much more a technology player than a telco provider and it is our ambition in the coming years to anchor this technology at the European level and further strengthen our pan-European presence." 
Dstny footprint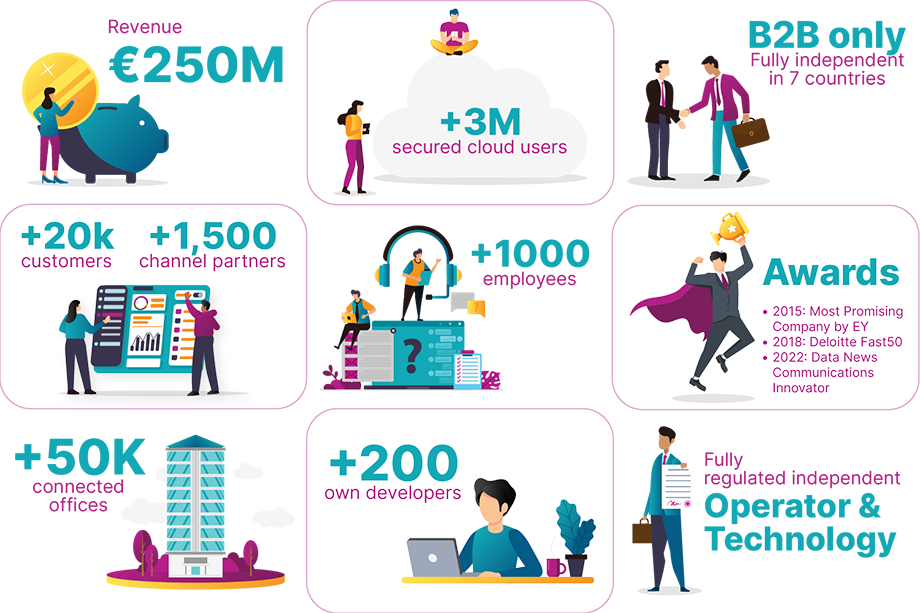 All the Computable Awards 2023 Winners
| | |
| --- | --- |
| Category | Winner |
| Social Innovation of the Year | Whizzkids |
|   | Runner-up: Bednet |
| Security Innovation of the Year | Atos AIsaac |
|   | Runner-up: Hybrid Pentest (Intigriti) |
| IT Project of the Year in SMB Market | Marketing Automation (Ancienne Belgique, Salesforce en Sparklink) |
|   | Runner-up: Digital Production (Jacques IJs en Factry) |
| IT Project of the Year in Enterprise Market | Journey to cloud (Carrefour België, Google Cloud Platform en Kyndryl) |
|   | Runner-up: Eén centraal voertuigvolgsysteem met alle operationele data (Dufour, ARC en Webfleet/Bridgestone) |
| IT Project of the Year in Public Market | Digitale klimaatscan (ILVO, Boerenbond, VITO en DjustConnect) |
|   | Runner-up: Holistische cybersecurity (AZ Vesalius en Palo Alto Networks) |
| Tech Startup of the Year | Nine Engineering |
|   | Runners-up: Elimity en Betotrace |
| Tech Scale-up of the Year | YoungOnes  |
|   | Runners-up: RoboRana en Henchman |
| Next Generation Award | KdG |
|   | Runner-up: AP Hogeschool Antwerpen |
| IT Person of the Year | Daan De Wever (Group CEO en oprichter Dstny Group) |
|   | Runner-up: Mieke De Ketelaere, expert AI |
| IT Lifetime Achievement Award | Jan De Schepper |