Title
FAQ by and for Telecommuters
With the Corona virus in Europe, the number of people that work from home arises. And so do the uncertainties and questions among telecommuters. In this article we answer for you our customers' most frequently asked questions. Of course, we're also there to answer all your questions directly. Just get in contact!
Is my company data safe when my employees work from home?
Now people started teleworking in large numbers, this is a good question to ask. Many telecommuters still need access to corporate data, while they use their private computer or an unsecured public internet connection.
The answer to this question highly depends on where your company data is located and how your employees access that data. Is the data stored on a server within your corporate private network? Than a VPN (virtual private network) can be your answer. Through a VPN solution, users have access to the data they need and that they are authorized to access – from any location.
At Dstny, for example, everyone logs into our private company network with a VPN client to a cloud based firewall. This way they can access all information and applications on our private network, in whatever location it may be. We secure that network with a single cloud solution – no local on-site firewalls needed.
But securing your confidential data goes beyond a private network because if your company data is stored in a public cloud, it highly depends on the settings of that public cloud environment how secure your data access is. Cyber criminals make use of this unusual situation – where many people work from dispersed locations – and their main target are end-users. That makes it all the more important to alert your co-workers to their vulnerability. You have to train them – as it were – into real cyber fighters and make them aware of the dangers that can creep in via e-mail.
Is my virtual private network strong enough for all teleworkers to access together?
It is likely that your co-workers – who are continuing their job from home nowadays – access company data through your private network. And it's also likely that your VPN had never been so busy before. However, the high occupation to your firewall can create slowness.
The reason for this, is that your remote workers all connect to your firewall with their VPN client. The internet connection (VDSL, COAX, Fiber, Cloud) to your firewall maybe doesn't have enough capacity or your firewall isn't powerful enough to handle this many remote users. The strength of your Dstny firewall is easily adapted to your needs. Because it is located in the cloud, it can be scaled up by simply increasing the bandwidth or making it more performant. In case you have a local firewall on a Dstny data connection, we can provide various upgrades depending on your technology (VDSL, Fiber,…). And when most of your colleagues are back in the office soon, as normal, this can simply be scaled back down.
What should you do when you do have internet malfunctions?
An internet malfunction is more than just annoying in our current society. Without internet, you can't call, email, your entire organisation is suddenly technically unemployed. Fortunately, there are a number of things you can try out to get the network up and running again.
In the field of fixed internet, a common cause of failure is routing problems between different internet providers. Wireless internet connections such as WiFi and 4G can experience interference due to poor antenna coverage or the insulation and glazing of a building. Even the space in your home has an impact: if you are in a kitchen with microwave, you will have a worse signal.
Solving your internet malfunction: step-by-step plan
In order to solve the problem, it is important to first gain insight into the problem and to identify the cause. This is how you tackle it:
1. Make sure your devices are working to rule out that the problem is with your phone, computer or tablet. For example, you can use another computer to check the network in the location. If this gives you a good range, the problem lies with your device itself. Of course, make sure that your devices connected to the wireless network are not compared to devices that work with the wired network - and vice versa.
2. Do your devices work correctly? Then take a look at your modem or router. You can easily restart it by disconnecting the modem from the wall socket, waiting 30 seconds and plugging it back in again. Rebooting your modem simply means that you perform a reset. With resetting you can't do anything wrong, you just overwrite the settings and the possible error signal.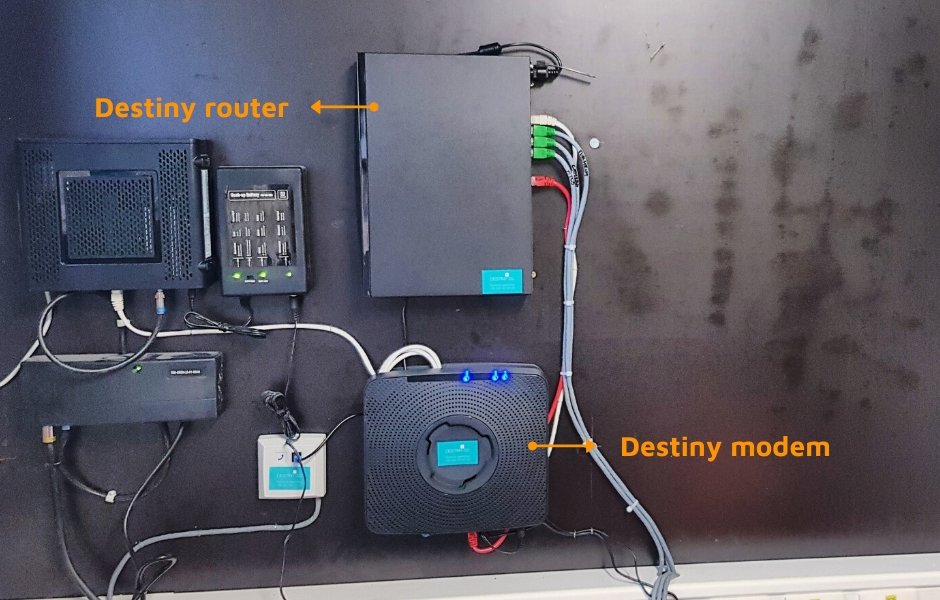 3.  No result yet? Then there is a good chance that the network failure is at your internet provider. In that case, contact your provider who will solve the problem for you. Keep in mind that your internet connection at work, might not be managed by the same provider as your private internet connection at home. 
After all, it is even more important for companies to nip the interference in the bud and to be operational again as soon as possible. That is why we at Dstny also use this step-by-step plan. When a network failure occurs, we first find out where the problem is. Only once we have located the problem, we can take the right next steps.
If the failure is caused by our devices, we make sure that they are repaired or replaced as soon as possible. Is the problem located elsewhere? Then together we will find out where the problem may be and give insight into the next step the customer can take in solving it.
What happens when my data bundle runs out?
We're all spending more time at home these days and you may see that this from your internet usage. To help our customers a hand, we already doubled their mobile data. But what if you still exceed your data limit?
When you use 80% of your mobile data bundle, as a Dstny user you will receive an alert via email and SMS. As a fleet admin you also have the possibility to receive such alerts via email. You can easily set this per service on the mydstny-portal in the "Service overview" section. Even with 100% usage you will be notified again. From the moment you go over your bundle, you will automatically overspent. This means that you can continue surfing, but at 4 cents per MB.
Although we doubled the mobile data of our customers during the Corona crisis, you may need more data. In that case, you can easily scale your bundle via the mydstny-portal of your fleet admin. Scaling your bundle back to your usual data usage is just as easy via the portal.
Can my Unlimited data bundle reach a limit?
The answer to this question is yes. You can read in the Fair-use Policy that our Unlimited offers are reserved for normal personal use - as is the case with any other provider. When you do reach the limit of your Unlimited data bundle, you will still be able to surf, but at a reduced speed of 512kbps. This applies until the end of the month when the usage is reset to 0.
Should I continue my meetings?
A common reaction to the lockdown was that meetings were being canceled or postponed in large numbers. Since we are working from home for a while now, and Corona measures have been extended again, we can't continue postponing some of these meetings. And that's not necessary either. People start finding their ways, using virtual meeting tools. And meetings find place – almost – as if everyone is in the same room.
Also at Dstny we continue having efficient meetings as much as possible – both with colleagues and with customers and partners. Communication has always been key, but even more in situations where everyone is physically separated. It is important to keep your teams up to date on all that is happening within your organization. This way, colleagues can communicate a shared message to the customers and are able to answer questions correctly. Besides, it is important for teammates and colleagues to not lose track of each other. By organizing regular, virtual team meetings, we make sure our colleagues are always on the same wavelength and everyone can work efficiently. To check on your team members, extra one-on-one's may be required. But not only meetings within your team should take place on a regular basis. We also make sure our teams know what the other Dstny teams are up to, by organizing cross-departmental meetings. And last but not least, we also take time for fun. Working at the Dstny offices is great, because that's where you get to bump into your fellow Destinians. To not lose out on each other we continue our weekly afterwork on Friday – online though!
After we made sure the whole organization was on the same page, it is important for us to get our customers, partners and suppliers to do the same thing. Since we no longer have physical contact with them on a regular basis, we schedule virtual meetings instead. This way, we keep in touch with each other, we stay abreast of each other's needs and continue activities together.
Conclusion: in a remote environment, the frequency of contact can't go down. Keep in touch with your colleagues to make sure everybody is doing well and all teams are up to date on what is happening within your organization. Also make sure you 're available for your customers and partners to clear up all questions and concerns. 
PS: virtual meetings can also have the fun aspect as a main goal. A coffee break, lunch together or happy hour can help maintain the connections between your colleagues.